Power Wagon electrical issues
12-03-2017, 12:12 PM
New Member
Join Date: Dec 2017
Posts: 1
Thanks: 0
Thanked 0 Times in 0 Posts
Power Wagon electrical issues
---
Iíve got a 77 W200 Power Wagon and all the gauges suddenly stopped working as well as the instrument panel lights. Canít find any blown fuses.
12-16-2017, 11:16 AM
Mopar Fanatic
Join Date: Dec 2016
Location: Kansas
Posts: 153
Thanks: 0
Hello
Since both the instrument lights and gauges quit working at the same time I would suspect the round pin connector that plugs into the back of the cluster printed circuit board. This connector has 10 pins or so.
I would first try reaching under the dash with the parking lamp switch on and try wiggling the wires to see if the lights would flicker on and off. I would do this in low light, those dash light aren't very bright and are hard to see during the day. Then, I would carefully unplug the connector and try reseating it a couple times. Be careful, that connector can be very hard to get off sometimes, I've accidentally ripped some of the pins off the PCB and had to solderer them back on. The connector is keyed so, it only goes on one way. In fact, check to make sure none of the pins wiggle on the board or the solder joints are cracked.
If none of the above works.
I would take a tester light with the alligator clipped to a good ground. Carefully disconnect that round connector and confirm that the corresponding pins are hot. If I recall, the wire that runs the dash lights are orange and is feed from the headlight switch.
I don't remember what color the gauges wire is, but the wire would be coming from the ignition switch.
Looking at the traces on the PCB you should be able to tell which wire runs what. The wire that feed powers to the gauges will go to the voltage limiter and from there the limiter feeds "approximately" 5 Volts to one side of the gauges... its basically a turn signal flasher. Its operation can be tested with your test light. It should turn your light off and on.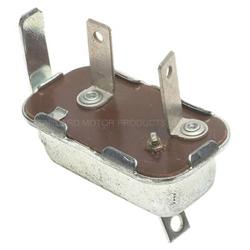 To do this job, it would easiest to remove the cluster from the dash rather than lay on your back dig around under the dash, that's hard to do, especially if you don't know what your looking for.
Remove the plastic bezel/face from the dash. It has screw on the face, top and bottom.
If you have a radio that will have to come out next.
Remove the screws that hold the actually cluster to the dash.
As you start to pull the cluster out be aware that you'll have to reach behind it to disconnect the speedo cable and wiring harness before you can fully pull it out.
I hope you find this helpful. Good luck.
---
Last edited by dodgem880; 12-16-2017 at

12:46 PM

.
Thread
Thread Starter
Forum
Replies
Last Post
Interior/Exterior Electrical
General Technical Questions