Oil problems with all OHV engines
08-20-2014, 03:13 PM
I wish these oil companies would stop wrecking our oils... IMHO Rotella is good choice to get the zinc you want without adding it from an additive.It doesn't surprise me that now they're going to start to eliminate it. Ask 10 people what the best motor oil is and you got 10 different favorites..lol

Peter
08-20-2014, 05:36 PM
Mopar Lover
Join Date: Apr 2012
Location: NH
Posts: 695
Originally Posted by
NeverEnoughAuto
I wish these oil companies would stop wrecking our oils... IMHO Rotella is good choice to get the zinc you want without adding it from an additive.It doesn't surprise me that now they're going to start to eliminate it. Ask 10 people what the best motor oil is and you got 10 different favorites..lol

Peter
I run Rotella too, I was hoping it was just a rumor that they were cutting back on zinc. Guess it's time to go roller cam!
04-24-2016, 08:18 PM
New Member
Join Date: Apr 2016
Location: ND. Hell on earth.
Posts: 15
Thanked 0 Times in 0 Posts
Thanks.
---
Originally Posted by
67 GTX
I know i posted this already, i am just gonna re-post it for the new members so they know
The Zinc has been removed from the oil, and because of this, it is causing cam failure in most OHV engines. To fix this, you need to buy a zinc additive or an oil with zinc in it to stop the problem, but it may be too late. If it comes to that, pulling the engine is the best bet. You need to make sure the metal which came off the cam and lifters didnt scratch the berings or destroy the oil pump.
OHC engines aren't affected. It affects all OHV engines (hydraulic and solid lifters), except for roller cams. The zinc coats the lifters and the cam, making the contact smoother, and allowing the lifters to spin without wiping out the cam.
Good point. If anyone is wondering how to get an oil that is made this way and readily available??? Unless you wanna spend a bunch of money.. Most all of the oils sold for (Semi) trucks are chalk full.. Semi's are the hardest on oil and the oil has to be bullet proof. I tried this out myself and found it to be true. My test vehicle was a 1978 F-350 with a 460. Unlike regular oils the (Hot) oil pressure remained (Stable). If you watch your oil pressure you will see a drop in pressure when using conventional oils under extreme and normal operation.. Most is 10/40 which is not a problem in warm or summer climates.. In colder conditions??? Well why expose a really nice care to failure??? But if you must. Any good 5/30 with additive will do for a short amount of time.
here is an example of what will happen; it took my cam with it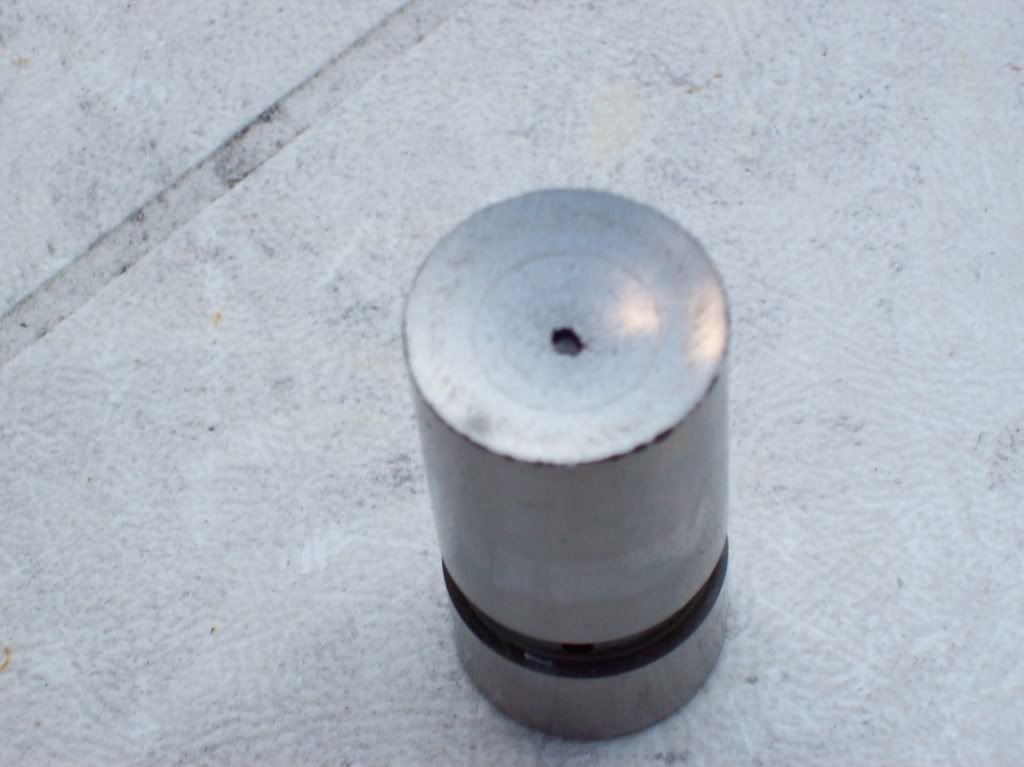 keep in mind this is a brand new lifter with around 600-700 miles on it
BUT, if you have an old engine thar has been running for a long time, you wont need zinc additives
most oils (make sure yours has it) has enough zinc in it for the engine
but, if you are running a newly built engine (new cam, lifters, etc), you need the zinc in your oil
here is more proof:
https://moparforums.com/forums/f10/z...gine-oil-3832/
05-29-2018, 12:16 PM
Super Moderator
Join Date: Mar 2015
Location: Lost In Time!
Posts: 2,942
Thread
Thread Starter
Forum
Replies
Last Post
Engines, Exhaust and Fuel systems
General Technical Questions
General Technical Questions